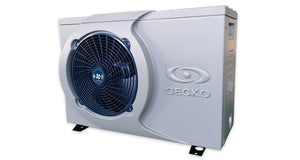 Here comes Gecko's new heat pump solution. Using our in.temp has never been so easy! Simply connect it to a Y series control that supports it and you're good to go! Automatic detection, smart power management and no additional power circuit required, the in.temp powers directly from the spa control.
Are you looking for the most energy efficient form of heating water? Our in.temp is the perfect solution! Air sourced heat pumps, will allow you to save up to 75% energy consumption in comparison with electric elements. The icing on the cake: Gecko's in.temp also uses an eco-friendly refrigerant (R32 and R410A).
With in.temp, you can choose one of its six modes of operation that suits you the best: Eco Heat, Smart Heat, Eco Auto, Smart Auto, Cool and Electric! No matter the weather, your spa will always be at the perfect temperature. Smart modes let you taking full advantage of your in.temp to optimize your savings.